All PTI QCS associates learn about The PTI Way, which is the foundation of everything we do as a company.
Training for PTI QCS Associates
We have two types of training at PTI QCS. All associates learn The PTI Way, which illustrates our core values and describes how we deal with customers and associates. We conduct project specific training processes for associates to make sure they provide the highest quality performance for our customers.
The PTI Way
We encourage all PTI QCS associates and co-workers to learn everything they can about the company, its future, its profitability, and its philosophy. We want to make sure that everyone has the knowledge and education to be successful. The company's values and principles are defined in The PTI Way.
We invest in our human capital, sharing knowledge, education and professional development so that we are all successful.
The PTI Way is based on:
Commitment – We are committed to our co-workers, our business partners and our customers. We maintain this commitment through positive attitudes and intensity.
Taking care of our people – The success of PTI QCS comes from the success of all of our people. We accomplish this by teaching, directing and developing our people and recognizing and rewarding performance.
Doing the right thing – We strive to always understand the impact of our decisions. We accept responsibility for our actions.
Respect – PTI QCS promotes a safe workplace based on mutual respect, fairness and justice.
Passion for our customers – The ultimate success of our customers becomes our success. Every day, we strive for outstanding customer service, quality and price. Our tagline says it all: "Take care of the customer and the business will take care of itself."
Teamwork – We build solid and strong bonds with our co-workers, business partners and customers and we do so with integrity, honesty and trust.
An entrepreneurial spirit – We instill creativity, innovation and dynamism in everything we do. We reinvent and improve ourselves constantly.
Passion and determination – In everything we do, we seek to promote a positive attitude. We truly believe where there is a will, there is a way. Every problem has a solution.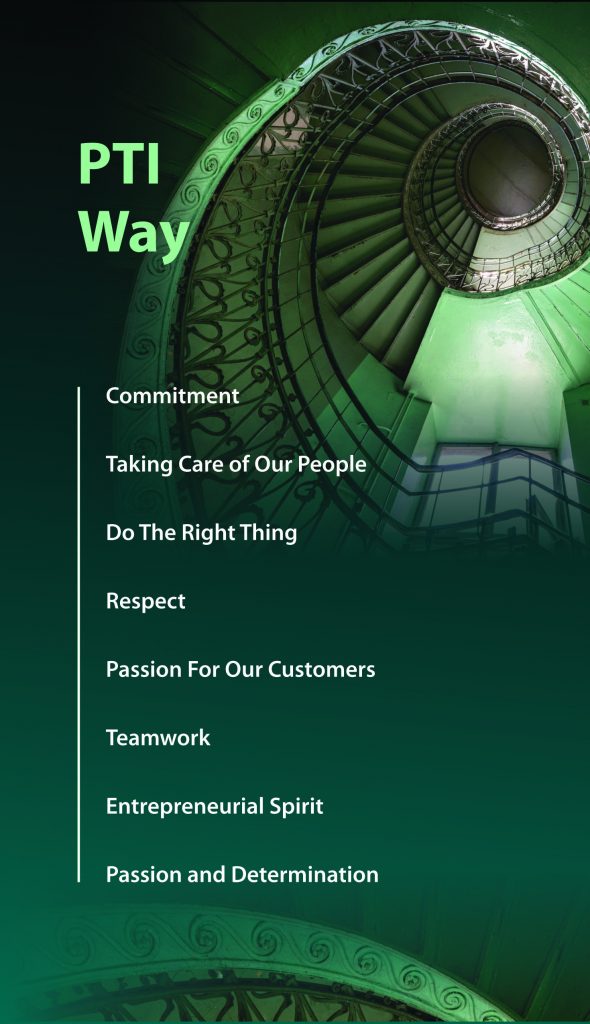 The 7-7 and 5-Zeros Principles of Excellence
Our 7-7 and 5-Zeros guiding principles support and guide our daily operations.
We promote good communication to motivate and stimulate our associates. We make sure systemic coordination is instilled in every project. We are disciplined in our work life and expectations. We follow up with customers and with associates to make sure nothing is left unsaid or undone. We infuse integrity and honesty in all of our actions.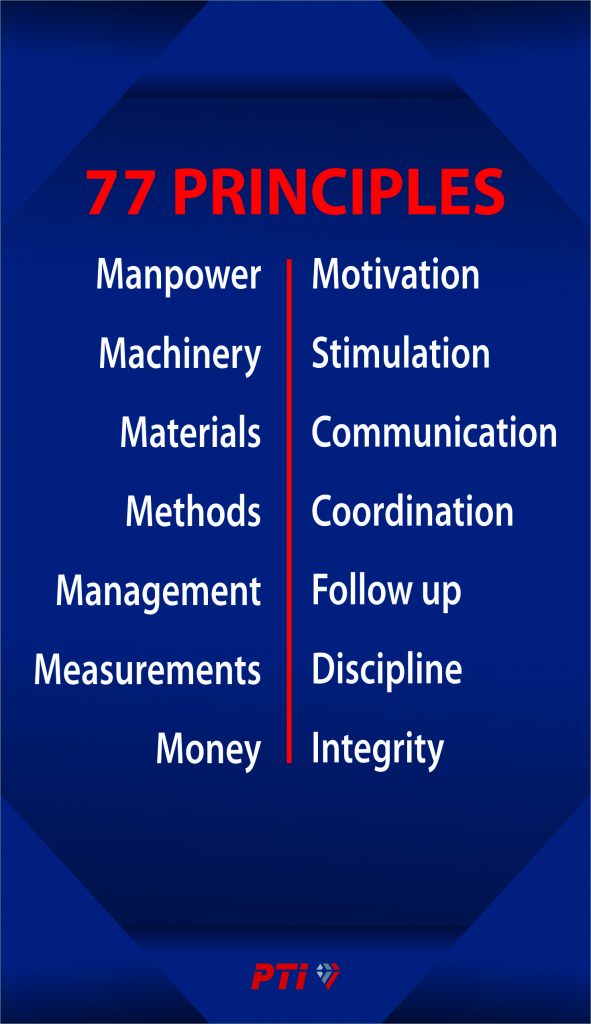 We are a team with a common purpose: success, profitability, longevity, and sustainability. We want our associates to stay with PTI QCS for the long-term. With continuous improvement as our defining goal, we make a total commitment to each other.
Training in Specific Job Functions
We spend a significant amount of time and effort in preparing our co-workers for new customer efforts.
For example, we have more than 700 employees skilled in inspection and containment projects. We can draw upon this base to start, develop and perform any required activities. PTI QCS establishes a 2-day training and onboarding process to identify and train our associates in the company history, the project needs and processes, customer strategy and all activities required to be successful. We conduct follow-up operations with supervisors, managers, and team leaders to make sure each team member is properly prepared for the project. Performance evaluations occur to ensure the highest quality among our team members.
Further, we conduct daily briefings on safety protocols and process improvements. We have a strict policy, based on one of the 7 principles of our company, to conduct frequent follow up of all customer guidelines, and we follow all customer emergency protocols.
For more details on our training courses and to learn how to coordinate a training session near you, email us at workshop@ptiqcs.com.